So you are a new mom, maybe you have Google searched 'Must Have Baby Items' or 'Most Used Baby Items' and you have stumbled across my blog. Well, welcome!
If you are reading this before you set foot in a baby store, good for you! If this is the desperate search you are doing after the horrible overwhelming ordeal. I am sending you a hug from one mom to another.
My recommendations come from experience of having 3 kids (maybe more in the future) and my our own run ins with registry shopping, and what experience has taught me for what you REALLY need and what goes in the trash or local thrift store. (if you really want to know what NOT to get go find a local baby resale store and look at what the shelves are filled with and DON'T register for that!)
You are a new mom, registry shopping sounds so fun! When you did your wedding registry it was a blast! Now its cute lil baby stuff oh you can't wait, right? I'm here to tell you that baby stores will humble you and make you question your very ability to become a parent.
Do you know what that whole wall of blankets do? Why so many options? Do I need a swaddle blanket? Holy cow why so many car seats? Do I value my child's life enough to buy the $500 seat? Am I a bad parent for only spending $300 on a stroller?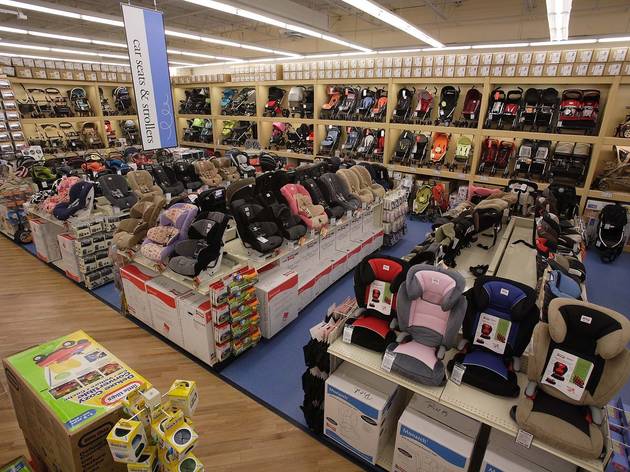 Yes that is a whole section of baby bottles and pumps, you ready for this? No... no you are not.
My best advise? Bring a friend who's parenting style is similar to yours and has had a baby in the past few years and bring her along. She will help you weed out the crazy with the sane. The useful with the junk.
Done? No... not everyone has that luxury of a close mom friend who you can shop with, so consider me your friend for the day.
Start with the big stuff:
You will be so emotional, hungry and overwhelmed at the end you will make bad decisions at the end of the day. It's better to make a bad decision on a pair of socks then a car seat.
#1. Car Seat
You can not ride in a car in the United State with out one. You will see there are different kinds: Infant, Convertible, All in One, Combination, Booster... My favorite?
Diono
Why?
You use it from Birth to Drivers Ed. 5 lbs to 120 lbs. It goes rear facing to 45-50 lbs, converts to a booster and folds in half for easy travel on a plane. Safest seat on the market and steel framed. We have 3 for our kids. Easy to clean. You want more reasons? Just ask in the comments below and I can answer them.
Yeah this is 3 Diono seats all folded and in a folding wagon being toted around the airport.
#2. Diapers
Cloth? Disposable? Pros and cons to both. For us the best was cloth, we went with prefolds and one size covers. Bought one set and it cost us around $400 and we have used it with all 3 kids. Money saving? Yes I think so. We did Seventh Generation disposables for vacations. You can't go wrong with diapers and wipes. Are there a million options? Yes! If you are going disposable decide if you are doing the normal kind or organic no dyes etc.. then just pick what your store has. Honestly you kid poops in them so the best thing you need to know is if it will keep the the poop explosions in or not. That comes with time and testing out different brands.
#3. Baby Carrier
I am not your normal 'buy infant car seat and the travel kit' mom. The one you see lugging around the big bulky infant carrier in the store, putting it either dangerously on the top or filling up the grocery part with baby car seat and no room for groceries. Why? This purely my experience. WASTE OF MONEY! The infant carrier is so small that if you use it for a year that is shocking. After spending $200 for one seat then have to turn around a buy a second seat for another $200 or more! For what? So called 'convenience'? Do you really want to carry a baby in a seat and a huge baby bag? (More reading on that can be found
here
)
You wish you would look this fab!
Wouldn't it be better to have your baby close to your chest, bonding and even nursing when needed? Then if you need that baby bag you have 2 arms to chose from to hold it. So baby carrier, registry must! What kind? I have tried a bunch of different kinds, Moby, slings, you name it! My favorite?
Tula
. Yeah yeah It's kind of a cult. But once you have one you too will be shouting "Tula in the Wild" to other baby wearing families.
Why?
It is built in such a way that the weight is evenly distributed on your back so that there is no pain! I have carried my 27lb almost 2yr old all over Disney and walked away not feeling any issues!
We bought my hubby one too and he used it for walking all over Roatan :) We have put the 4yr old who is 40lbs in the toddler one. He loves it! Again, no pain, no issues and free hands. Win win!
#4. Books
Reading to your child is a must! Go to the library and do the $1 or 50cent books and start building a library. Register for a ton! Can't go wrong with books.
#5 A good stroller
This is only for those that are really going to use it. We got one for baby #1 and wanted a cheap jogging stroller. Got it, good. Used it a ton! He came running with us a lot and we ended up using it quite a bit.
Not everyone is like us though.
If you are a runner and a mom I highly recommend getting a stroller. But unless you have season passes to Disney or live in a big city where you need it. Don't worry about the stroller and get the baby carrier instead. When baby #2 came along we invested in a
Phil and Teds
. Those are amazing strollers for the casual runner and the mom on the go. We loved that stroller! I did an amazing deal where I got it for free... yes free. Read about that
here.
Then after baby #3 came we realized how much we all run together as a family and how we needed a more serious running stroller. Sorry Phil and Ted's... So after some hunting a lots and lots of research we decided on a BOB stroller. LOVE IT!!!! Another fab deal I got... more on that later.
#6. Good soft blankets
I love the bamboo ones, just get like 6 of those and you are good. Trust me you will be washing a ton once the baby comes, those blankets will go in and come right back out and be used. Why get a huge stock pile? Do you really want MORE laundry then you need? The bamboo ones area great breastfeeding covers because they are breathable and baby won't sweat as much under there.
That is it!!
"What about a crib? What about a dresser? Changing table? Baby monitor? Bottles?" I hear you... We cosleep, no crib needed. Buy them a twin mattress when they are ready for their own bed. Get a dresser off craigs list. Changing tables area waste of $$ change the baby on the bed, on the floor or the couch. You have a built in baby monitor, its called your mothers intuition. I can to this day tell when any of my kids are about to wake up. We never bottle fed so I am no help for that department sorry.
Any questions? Let me know! Would love to know your thoughts!